October 01, 2017
Weekend with The Beach People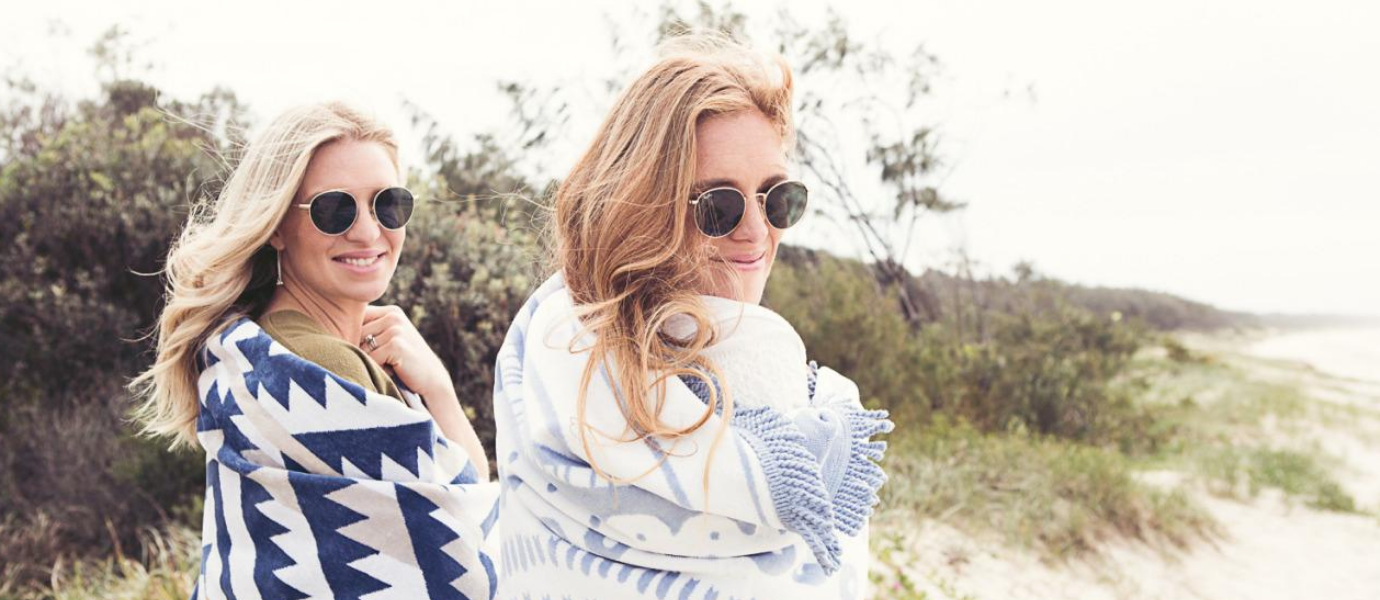 Where did your love of the ocean come from? Emma: I lived on a yacht until I was the age of 3. I've always been water obsessed. A dip in the sea after a big day just feels so good! Victoria: We always holidayed at the beach so it just feels like a happy place.

What inspires your designs/creations? Victoria: Travel, art, architecture, music and nature are our biggest sources of inspiration. We recently travelled to Montauk for the summer and we felt so inspired by the coastal town that we designed the 'Montauk Roundie' after it… Same as the Palm Springs roundie in midcentury colours and lines…. Emma: We love designing products that we feel like our personal lives need. Like the ideas behind the roundie came to us sitting on the beach one afternoon and I turned to Victoria and said 'round towels could be cool, it would give you more space than a conventional towel and we could do them in beautiful prints and patterns'.

What are the things you cannot live without in your home? Emma: Definitely my roundie! It's in the back of my car at all times ready for the beach, poolside or park… Victoria: My dog Duke!! Such a buddy around home… We are just about to launch our new bath collection, it's super soft organic cotton (made in Portugal) with a beautiful stone wash finish plus it's fast drying, so good for our climate. Say tuned for launch dates! I can't imagine my home with out it now.

How do you juggle work and family? Emma: Owning your own business means the work load is endless. Some days we just have to do what we have to do, kids and all, just get it done and we're ok with that. Balance goes out the window, that's just life and the sooner you stop stressing about balance the better, I think haha. Generally we switch off after hours/ weekends and spend time with our loves. Victoria: Our parents owned small businesses and they always included us in what they where doing. We always felt like they had time for us even though they were busy people. I have a 10month old (Theodore) and some days I tell the office I'm available by email or phone and I just give him my time and attention if I feel thats what he is needing that day…

What is on the horizon for the Beach People? Where would you like to be in 10 years time? Victoria: As I mentioned earlier we have a new collection called "Earth and Sea" launching very soon. Lots of new products including our first ever bath collection…. Emma: 10 years, hopefully doing more of this! Continually designing beautiful products and home textiles that we love and bringing them to your homes. Hopefully still spending long lazy days at the beach with my sweet family and friends. We live for the simple pleasures.
#Palmbeachcollection On Instagram